Yo Canny and her inspirations: Emma & Kiki Canny
"Girl, Take the Lead!" podcast is the brainchild of Yolanda (Yo) Canny (Boomer), and her daughters, Emma (Millennial) and Kiki (Gen Z). Our goal is simple: have every girl/woman/daughter see themselves as leaders and celebrate our strength!
Our content will focus on understanding leadership from different generational perspectives and challenge the status quo. Our format includes discussions with experts, reviewing books/articles on the subject, and provide inspirational stories from organizations and leaders. We use questions to explore the various topics which can be found in our show notes. We want to save you the time by reading and researching topics.
More about us:
Emma, our podcast Millennial, was the adventure-girl growing up. She been the civil rights and gender equality advocate in the family. Growing up in California she developed an early love for swimming and waterpolo, playing goalie, a key leadership position on the team. She attended Beloit College in Wisconsin and studied abroad in Florence which led her to a Master of Science International Public Policy at the University College of London. She began her career as a paralegal and then transitioned to contract and sourcing at Facebook. Currently she is the Go-To-Market Sourcing Analyst for Anaplan in San Francisco. She also has a 1500+ following on Tic Tok Leather Bound Gremlin, which addresses her love for books. In this podcast, she'll bring forward some of the questions and insights she's seen as we explore questions around women leading.
Kiki, our podcast GenZ, was the social-friendly girl growing up. Her parents would often panic looking for her when she was playing with a new friend she'd discovered! She was a waterpolo player in high school often leading and making sure the fun factor was always present. She took those leadership qualities and obtained the Gold Award, the highest Girl Scout award. She worked through some of her own limitations to excel at San Francisco University to graduate with honors. She studied abroad in Tokyo after majoring in Japanese. After graduation, she spent almost 3 years as the Development and Marketing Coordinator for Friends for Youth, a community organization to help kids at risk. She is currently has her dream job as a CX Specialist at Discord, a voice, video and text app that helps communities come together to hang out.
Yo, our podcast Boomer, has been in marketing leadership positions for over 42 years and managed teams of 1 to 14. Her drive to achieve came from her father's Mexican American roots and growing up in a bi-ethnic family where acceptance was a struggle. She got her MBA in 1978 when few women were in Business Schools and benefited from scholarship and affirmative action programs. She's led marketing efforts for large companies and start-ups, nonprofits and for-profit, and domestic and global organizations. She has been in a 12 step recovery program over 21 years for eating addiction. She was been given many opportunities to lead by women who have gone before her and she now wishes to repay that forward by helping all women lead! Currently she is Adjunct Lecturer at San José State University in the Marketing and Analytics Department.
Our Hosts
Depending on the episode we will vary our hosts but Yo will be the key person producing the content.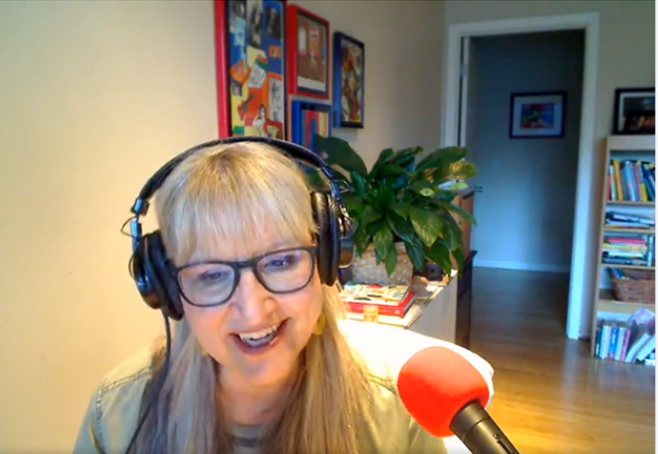 Yo Canny
Podcasting found its way to Yo after 42 years in the corporate world via Cathy Heller. Yo is super passionate about bringing her learning to the discussions, loves doing the research for the topics we explore, and cares very much about listeners.
We appreciate all our guests and guest hosts - thank you for all the effort you put into the topics we discuss!
Our Advisory Board
We are grateful to the many who have helped us along. It all began with Cathy Heller and I will forever be grateful to her and her team.
Along the way there have been many that have served as a sounding board for our podcast. Special thanks to the following:
Sheila Whitescorn (told me about Cathy Heller and has been my intuitive guide since we worked together in 2013)


Steve Canny (couldn't have done it without my husband's encouragement!)


Andrea Canny (my beloved sister-in-law who know more about podcasting than I'll ever know)


Mary Gottenborg (who spent many hours listening and advising - she hired me back in 2008 and we've remained friends)


Mary McEvoy (also spent a fair number of hours listening and advising - we first worked together back in 1992 and still remain friends with lots of fun stories, like being stranded on a tarmac in Tunisia just as Muammar Gaddafi fled from Libya!)


Tino and Caitlin Canny, our sweet (?) frenchies, who have been by my feet the whole time, trying to contain their snoring while I record, and protect me from any lizard, delivery person or stranger. They listen without speaking - true leaders guiding their human along.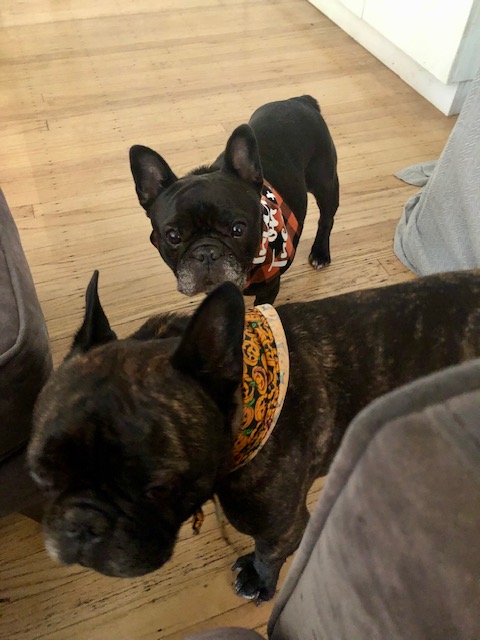 My "6 Peas in a Pod" podcasters group (have loved and encouraged me all along the way every week since Nov., 2021 - they're incredible women and have incredible podcasts)
Please check out their podcasts:
Melissa Brunetti - Mind Your Own Karma, The Adoption Chronicles
Mesha McKittrick - Mindset Check
Whitney Baker - Electric Ideas with Whitney Baker
Rachael Blair - Raising Vibrant Kids
Rachel Brumberger - UnscRxipted
THANK YOU!!